Status Deceased{{Character
| Image =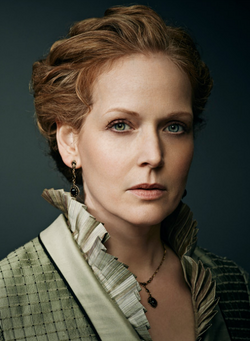 | Name = Margaret Maggie Palmer | Date of birth = | Birth place = | Status = Deceased
| Date of death = 1869 | Age = | AKA = | Occupation = Hotel Proprietor
Rancher | Marital Status = Widowed | Relatives = | Relationships = | Actor = Chelah Horsdal | Season = | Seasons. = | Episode = | First =
                = Eminent Domain

| Last = Gambit Appearances Margaret Palmer is a businesswoman and proprietor of the Palmer House in Cheyenne.
Biography
Edit
Background Information
Edit
Margaret and her husband moved west to start a cattle ranch. He died sometime after their arrival, leaving Margaret to look after the ranch alone.
Margaret built the Palmer House in Cheyenne, taking advantage of the anticipated influx of rail travelers through the west.
Appearances
Edit
Palmer, Margaret [ [